So you decided you wanted to own a true original. You did the research to figure out where to buy paintings online. You browsed the best online art galleries and art websites. 
Of course, you found hundreds of beautiful, original works of art from talented artists. How could you possibly choose when there are so many incredible works of original art for purchase online?
If you're feeling torn between two works of art, we can help.
Among the mountains by Sergei Chernyakovsky
Painting, Oil on Canvas
23.6 inch x 35.4 inch
Who is ultimately deciding?
If you are buying artwork for yourself, then you are probably making the decision alone. If you are buying artwork as a couple, then you are likely deciding as a pair. When more than one person are involved in choosing a work of art, be prepared to make compromises to find a middle ground. This way you can select a piece you both love!
Be careful with outside influences
Something to consider – be careful when getting outside opinions on the art you may be purchasing. Art is so wildly subjective. So chances are, all of your friends and family will have different tastes and opinions when it comes to original art. It may be tempting to ask for outside opinions on the art you should select, however it can sometimes lead to overwhelm or confusion. Try to stay focused on how the art makes you feel and how it will look in your space. After all, this is all about finding an original painting or a work of art that YOU love!
What's in the budget?
Budget is an obvious factor when it comes to selecting a beautiful piece of original artwork for your art collection. On Zatista's online art store, you can search for art with our advanced filters to narrow down pricing. But don't let cost be the only factor if you're deciding between two similarly priced pieces you adore. Sometimes it's worth investing a little bit more to own art you truly love.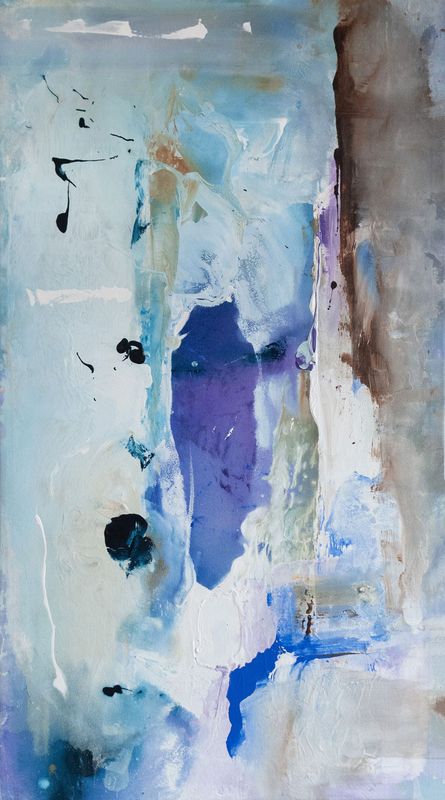 It is a good omen by Ordo Amoris
Painting, Acrylic on Canvas
53.0 inch x 28.0 inch
Which piece of art is better suited to the space?
Aside from wanting to select an original painting that you absolutely adore, you'll want to make sure that it looks great in your home, too. There are a few things to consider when determining what kind of art will work best for your space. For example – how large is the wall where the artwork will be hung? Will the artwork be hung above furniture? What is the general decor style and desired ambiance of the room? Ask yourself which piece would make the most sense in your space. 
Bonus tip: With Zatista, you can use our advanced filters to get really specific in your search! Are you looking for a portrait, landscape, or square piece? You can even filter by size.
Go with your gut
Of course you want to choose a piece that has lasting power, looks great in your home, and meets your needs. You also want to select art that feels right for you. Sometimes the most important factor in making a decision is trusting your intuition – so go with your gut!
Who says you can only have one?
Still can't decide between two works of art? Why not go for both! You can always invest in more than one piece of art that you will love for years and years to come.
—
Browse our online gallery, home to artwork by both emerging and established artists around the world. Find art you love.